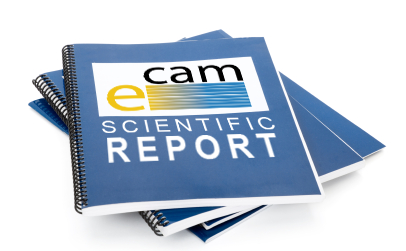 The workshop scientific report from the E-CAM State-of-the-Art Workshop Large scale activated event simulations that took place on the 1-3 October 2018 in the CECAM-AT Node (Austria), is now available for consultation and download on our website under this link.
Short Description:
The State-of-the-Art workshop in the E-CAM classical molecular simulation work-package (WP1) brought together 40 participants including scientists from non-academic research centres, to discuss computational approaches capable of addressing time scale problems in complex systems in materials science and biophysics. Scientific discussions at the workshop centred around three fundamental computational challenges closely related to the time scale problem of classical MD simulation: (1) The calculation of the populations of metastable states of an equilibrium system; (2) The sampling of transition pathways between long-lived (meta)stable states and the calculation of reaction rate constants; and (3) The extraction of useful mechanistic information from the simulation data and the construction of low-dimensional models that capture the essential features of the process under study. The main outcomes from each discussion are described in the workshop report.
Two open discussion sessions revolved on efficient path sampling methods and the identification of reaction coordinates; and how machine learning approaches can be used to make progress in this area. Another important goal of the workshop was to debate about how to facilitate the use of simulation and modelling in industrial settings, with the workshop participants with industrial experience emphasing the importance of detailed project management and, in particular, the need to have very clear agreements about intellectual property rights.
Other scientific reports from State of the Art and Scoping workshops can be hound here: https://www.e-cam2020.eu/scientific-reports/.