Feb
17
Mon
Integration of ESL modules into electronic-structure codes

@ CECAM HQ

Organisers
Nick R. Papior
Technical University of Denmark, Denmark
Micael Oliveira
Max Planck Institute for the Structure and Dynamics of Matter, Hamburg, Germany
Yann Pouillon
Universidad de Cantabria, Spain
Volker Blum
Duke University, Durham, NC, USA, USA
Fabiano Corsetti
Synopsys QuantumWise, Denmark
Emilio Artacho
University of Basque Country, United Kingdom
Description
The evolutionary pressure on electronic structure software development is greatly increasing, due to the emergence of new paradigms, new kinds of users, new processes, and new tools. Electronic structure software complexity is consequently also increasing, requiring a larger effort on code maintenance. Developers of large electronic structure codes are trying to relieve some complexity by transitioning standardized algorithms into separate libraries [BigDFT-PSolver, ELPA, ELSI, LibXC, LibGridXC, etc.]. This paradigm shift requires library developers to have a hybrid developer profile where the scientific and computational skill set becomes equally important. These topics have been extensively and publicly discussed between developers of various projects including ABINIT, ASE, ATK, BigDFT, CASTEP, FHI-aims, GPAW, Octopus, Quantum Espresso, SIESTA, and SPR-KKR.
High-quality standardized libraries are not only a highly challenging effort lying at the hands of the library developers, they also open possibilities for codes to take advantage of a standard way to access commonly used algorithms. Integration of these libraries, however, requires a significant initial effort that is often sacrificed for new developments that often not even reach the mainstream branch of the code. Additionally, there are multiple challenges in adopting new libraries which have their roots in a variety of issues: installation, data structures, physical units and parallelism – all of which are code-dependent. On the other hand, adoption of common libraries ensures the immediate propagation of improvements within the respective library's field of research and ensures codes are up-to-date with much less effort [LibXC]. Indeed, well-established libraries can have a huge impact on multiple scientific communities at once [PETSc].
In the Electronic Structure community, two issues are emerging. Libraries are being developed [esl, esl-gitlab] but require an ongoing commitment from the community with respect to sharing the maintenance and development effort. Secondly, existing codes will benefit from libraries by adopting their use. Both issues are mainly governed by the exposure of the libraries and the availability of library core developers, which are typically researchers pressured by publication deliverables and fund-raising burdens. They are thus not able to commit a large fraction of their time to software development.
An effort to allow code developers to make use of, and develop, shared components is needed. This requires an efficient coordination between various elements:
– A common and consistent code development infrastructure/education in terms of compilation, installation, testing and documentation.
– How to use and integrate already published libraries into existing projects.
– Creating long-lasting synergies between developers to reach a "critical mass" of component contributors.
– Relevant quality metrics ("TRLs" and "SRLs"), to provide businesses with useful information .
This is what the Electronic Structure Library (ESL)[esl, esl-gitlab] has been doing since 2014, with a wiki, a data-exchange standard, refactoring code of global interest into integrated modules, and regularly organizing workshops, within a wider movement lead by the European eXtreme Data and Computing Initiative [exdci].
References
[BigDFT-PSolver] http://bigdft.org/Wiki/index.php?title=The_Solver_Package
[ELPA] https://gitlab.mpcdf.mgp.de/elpa/elpa
[ELSI] http://elsi-interchange.org
[LibXC] http://www.tddft.org/programs/libxc/
[LibGridXC] https://launchpad.net/libgridxc
[PETSc] https://www.mcs.anl.gov/petsc/
[esl] http://esl.cecam.org/
[esl-gitlab] http://gitlab.e-cam2020.eu/esl
[exdci] https://exdci.eu/newsroom/press-releases/exdci-towards-common-hpc-strategy-europe
Mar
10
Tue
PRACE & E-CAM Tutorial on Machine Learning and Simulations

@ CECAM-IRL Node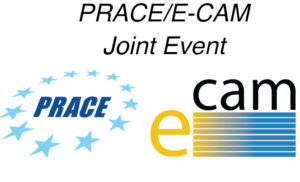 Organisers 
Jony Castagna
STFC Daresbury Laboratory, United Kingdom
Simon Wong
Irish Centre for High-End Computing, Ireland
Donal MacKernan
University College Dublin, Ireland
Overview 
The 4-day school will focus on providing the participants with a concise introduction to key machine and deep learning (ML & DL) concepts, and their practical applications with relevant examples in the domain of molecular dynamics (MD), rare-event sampling and electronic structure calculations (ESC). ML is increasingly being used to make sense of the enormous amount of data generated every day by MD and ESC simulations running on supercomputers. This can be used to obtain mechanistic understanding in terms of low-dimensional models that capture the crucial features of the processes under study, or assist in the identification of relevant order parameters that can be used in the context of rare-event sampling. ML is also being used to train neural network based potentials from ESC which can then be used on MD engines such as LAMMPS allowing orders of magnitude increase in the dimensionality and time scales that can be explored with ESC accuracy. So while the first half of this school will cover the fundamentals of ML and DL, the second half will be dedicated to relevant examples of how these techniques are applied in the domains of MD and ESC.
Learning outcomes 
By the end of the school, participants are expected to:
Gain an understanding of the fundamental concepts of ML and DL, including how neural networks function, different types of topologies, common pitfalls, etc.
Be able to implement basic deep learning workflows using Python.
Leverage existing framework to discover molecular mechanisms from MD simulations.
Prerequisites 
Participants are expected to have a working knowledge of Python (i.e. familiar with the basic syntax and constructs, have used Python before for at least a few months) and have a basic understanding of the fundamental physics behind molecular dynamics simulations and electronic structure calculations. All participants are expected to bring his/her own laptop to the school to conduct hands-on exercises.
Registration 
There is no registration charge for accepted participants. However, all participants must register via the webpage  https://events.prace-ri.eu/event/995 and due to limited space, in the event of high demand, participants will be selected according to expressions of interest  provided.
Non-academic participants are welcome to register to the school but should notify the organisers in order to pre-empt issues with third party copyright material that will be used for parts of the school.
Feb
15
Mon
Improving bundle libraries

@ CECAM HQ

Organisers
Nick R. Papior
Technical University of Denmark, Denmark
Micael Oliveira
Max Planck Institute for the Structure and Dynamics of Matter, Hamburg, Germany
Yann Pouillon
Universidad de Cantabria, Spain
Volker Blum
Duke University, Durham, NC, USA, USA
Fabiano Corsetti
Synopsys QuantumWise, Denmark
Emilio Artacho
University of Basque Country, United Kingdom
Description 
The landscape of Electronic Structure Calculations is evolving rapidly. On one hand, the adoption of common libraries greatly accelerates the availability of new theoretical developments and can have a significant impact on multiple scientific communities at once [LibXC, PETSc]. On the other hand, electronic-structure codes are increasingly used as "force drivers" within broader calculations [Flos,IPi], a use case for which they have initially not been designed. Recent modelling approaches designed to address limitations with system sizes, while preserving consistency with what is currently available, have also become relevant players in the field. For instance, Second-Principles Density Functional Theory [SPDFT], a systematic approximation built on top of the First-Principles DFT approach, provides a similar level of accuracy to the latter and makes it possible to run calculations on more than 100,000 atoms [ScaleUp, Multibinit]. At a broader level, the European Materials Modelling Council (EMMC) has been organizing various events to establish guidelines and roadmaps around the collaboration of Academy and Industry, to meet prominent challenges in the modelling of realistic systems and the economic sustainability of such endeavours, as well as proposing new career paths for people with hybrid scientific/software engineer profiles [EMMC1,EMMC2].
All these trends further push the development of electronic-structure software more and more towards the provision of standards, libraries, APIs, and flexible software components. At a social level, they are also bringing different communities together and reinforce existing collaborations within the communities themselves. Ongoing efforts include an increasing part of coordination of the developments, enhanced integration of libraries into main codes, and consistent distribution of the software modules. They have been made possible in part by the successful adaptation of Lean, Agile and DevOps approaches to the context of scientific software development and the construction of highly-automated infrastructures [EtsfCI, OctopusCI, SiestaPro]. A key enabler in all this process has been the will to get rid of the former silo mentality, both at a scientific level (one research group, one code) as well as a business model level (libre software vs. open-source vs. proprietary), allowing collaborations between communities and making new public-private partnerships possible.
In this context, an essential component of the Electronic Structure Library [esl, els-gitlab] is the ESL Bundle, a consistent set of libraries broadly used within the Electronic Structure Community that can be installed together. This bundle solves various installation issues for end users and enables a smoother integration of the shipped libraries into external codes. In order to maintain the compatibility of the bundle with the main electronic-structure codes on the long run, its development has been accompanied by the creation of the ESL Steering Committee, which includes representatives of both the individual ESL components and the codes using them. As a consequence, the visibility of the ESL expands and the developers are exposed to an increasing amount of feedback, as well as requests from third-party applications. Since many of these developers are contributing to more than one software package, this constitutes an additional source of pressure, on top of research publications and fundraising duties, that is not trivial to manage.
Establishing an infrastructure that allows code developers to efficiently act upon the feedback received and still guarantee the long-term usability of the ESL components, both individually and as a bundle, has become a necessary step. This requires an efficient coordination between various elements:
Set up a common and consistent code development infrastructure / training in terms of compilation, installation, testing and documentation, that can be used seamlessly beyond the electronic structure community, and learn from solutions adopted by other communities.
Agree on metadata and metrics that are relevant for users of ESL components as well as third-party software, not necessarily related to electronic structure in a direct way.
Creating long-lasting synergies between stakeholders of all communities involved and making it attractive for Industry to contribute.
Since 2014, the ESL has been paving the way towards broader and broader collaborations, with a wiki, a data-exchange standard, refactoring code of global interest into integrated modules, and regularly organising workshops, within a wider movement lead by the European eXtreme Data and Computing Initiative [exdci].
References 
[EMMC1] https://emmc.info/events/emmc-csa-expert-meeting-on-coupling-and-linking/
[EMMC2] https://emmc.info/events/emmc-csa-expert-meeting-sustainable-economic-framework-for-materials-modelling-software/
[EtsfCI] https://www.etsf.eu/resources/infrastructure
[Flos] https://github.com/siesta-project/flos
[IPi] https://github.com/i-pi/i-pi
[LibXC] https://tddft.org/programs/libxc/
[Multibinit] https://ui.adsabs.harvard.edu/abs/2019APS..MARX19008R/abstract
[OctopusCI] https://octopus-code.org/buildbot/#/
[PETSc] https://www.mcs.anl.gov/petsc/
[ScaleUp] https://doi.org/10.1103/PhysRevB.95.094115
[SiestaPro] https://www.simuneatomistics.com/siesta-pro/
[SPDFT] https://doi.org/10.1088/0953-8984/25/30/305401
[esl] http://esl.cecam.org/
[esl-gitlab] http://gitlab.e-cam2020.eu/esl
[exdci] https://exdci.eu/newsroom/press-releases/exdci-towards-common-hpc-strategy-europe